Floral illustrations from the British Library
A Victorian circle of pressed flowers
He found me this lovely illustration of daisies and forget-me-nots with a religious text (left below), which I adorned in my usual way with pressed flowers from my garden, after removing the writing.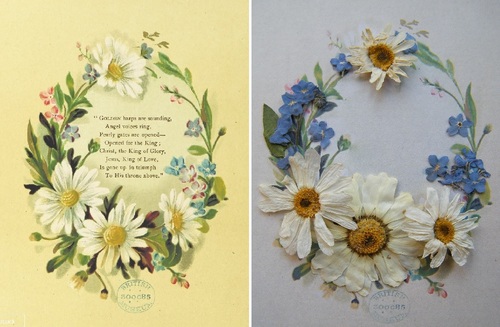 So, inspired, I had a look on Flikr myself and found a couple more suitable images.
A poem decorated with dried roses
The first picture illustrates part of a poem about a rose:
The text reads
"A charm has bound me with witching power,
For mine is the old belief,
That 'midst your sweets and 'midst your bloom,
There's a soul in every leaf."
M. M. Ballou—Flowers.
I printed out a copy of the image and adorned it using dried roses and jasmine I had picked from my garden last summer. The roses were dried by cutting off the head and laying it flat, face up on a shelf to allow the centres to show. I was quite surprised how fresh the jasmine looked once dry, but it was rather brittle. Find out more about
drying flowers at home
.
Flowers I bring
The next image is my favourite. A girl with an apron full of flowers, taken from another book of poems.
I had lots of fun with this, and I think my flowers brighten up the whole image. Again I used flowers and florets dried from my own garden, this time including forget-me-nots, cornflower petals, verbascum florets, viburnum florets, geranium and pelargonium flowers, erysimum, viola and anchusa. I used a mixture of
pressed flowers
and dried flowers, and had to resort to using a pair of tweasers as it was rather fiddly. Goodness knows what experts in the Victorian language of flowers would make of that little lot!
I couldn't help thinking this idea would be great for making a special card for someone. It would certainly be unique!
.
.